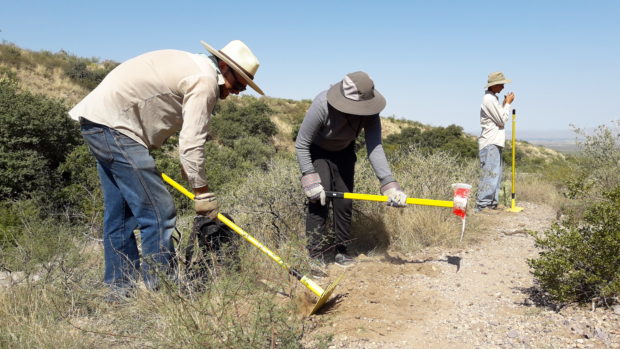 What: The Bureau of Land Management and Friends of Organ Mountains-Desert Peaks have partnered with Southern New Mexico Trial Alliance to create an MLK trail maintenance day in support of giving back to our public lands and our community. This is a great opportunity to get outdoors, learn new skills, and meet new people!
Volunteers will meet at the La Cueva picnic area at 8am on Monday, January 15th. We will work until about 12pm but anyone can show up or leave as they wish. Trail work will consist of brushing and drainage control at the Arroyo and La Cueva trails. No experience is needed. Tools, water, and instruction will be provided. Please bring snacks, water bottle, sun protection, and any other personal items you need to be comfortable and safe on the trails.
We will provide water, snacks, and a BBQ lunch after 12pm.
First five volunteers to arrive will receive a free I HEART OMDP T-Shirt!
When: January 15, 2018 8am – 12pm
Where: Dripping Springs Natural Area – Meet at the La Cueva picnic area.
Directions: Visitors should park and check in at the Dripping Springs Visitor Center, located 10 miles east of Las Cruces, on the west side of the Organ Mountains. From Exit 1 on Interstate 25, take University Avenue/Dripping Springs Road east to the end. After check in proceed back down towards the exit, to your right side there will be a sign for the La Cueva Picnic Area. Turn right and proceed down to the picnic area.
Contact:
Amanda Munro: amunro@blm.gov
Brenda Gallegos: Brenda@organmtnfriends.org